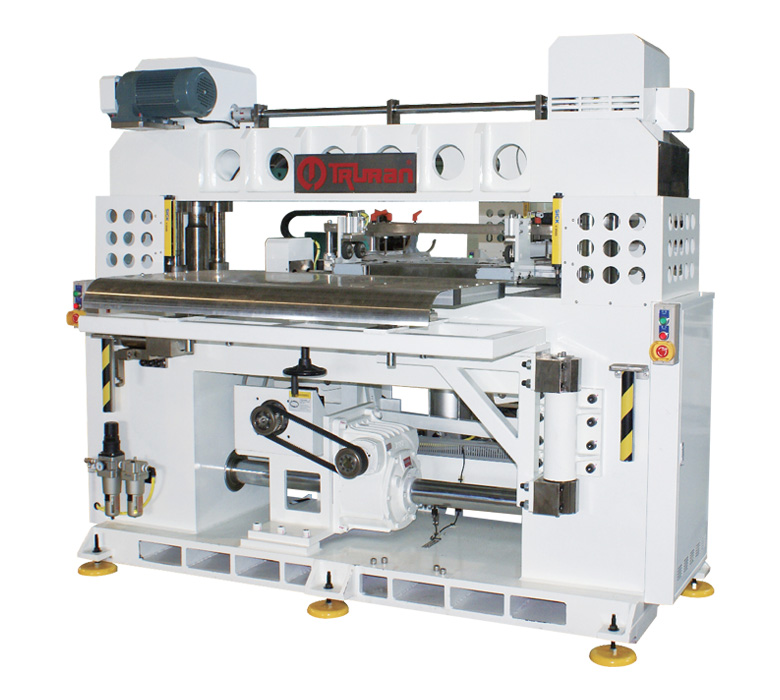 HSP-12
High-speed Steel Mold Cutter
FEATURES
Innovative Feed Mechanism:
in which, the Auto Up/Down Feed System is designed for the height of the molded material.
Superb and stabilized Dead-Point accuracy:
for which the Dual-axle synchronized mechanical structure is designed to achieve higher Lower Dead Point stability.
High-precision Depth Adjusting Mechanism:
which uses Left/Right Synchronized Fine-tune Unit to achieve 0.01mm of fine-tuning accuracy.
Parameter saving function:
to name and store relevant parameters after being set.
Molding Machine On-line function:
to carry out synchronized control with other molding machine through on-line operation.
Automatic Lubrication Mechanism:
in which, the Automatic Lubrication Mechanism is designed to reduce the daily maintenance work.
SPECIFICATIONS
MODEL
HSP-12
Maximum Width
1000mm
Cutting Efficiency
100SPM
Motor (HP)
220V 60Hz 3P
Air Pressure Requirement
0.5Mpa
Weight of Main Unit
2600kg
※We welcome custom-made orders for special request.
※We reserve the right to modify the specifications of any of the above listed machines without notice.