COMPANY
Re-evolving the processing technology of
Cutting, Forming, and Laminating.
INTRODUCTION OF THE COMPANY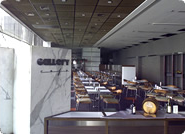 Chuliing Machinery Co., Ltd was established in 1985 and is now an expert in manufacturing die-cutting machine. Our products are sold worldwide and we are well-known die-cutting machine manufacturer. Our mission statement is "Quality, Innovation, and Service." We focus on developing, manufacturing, producing and selling high precision die-cutting machine. We also dedicate ourselves to develop automatic equipment and to train our employees to further enhance our product quality.

MISSION STATEMENT

Chuliing Machinery Co., Ltd extends its attitude to view our clients as our business partners. With "Innovation" in mind, we are able to create new value by innovating new ideas. We take "Service" to heart and put our clients before anything. We hope by perpetuating our mission, we can become a professional manufacturer to provide die-cutting technique and deliver a comprehensive solution. We base our operation on trust and work diligently to create a win-win situation for us and for our clients. We anticipate growing and prospering with our clients together. For more than twenty years, Chuliing has been holding its mission close to heart. We have adapted ourselves to market demand and have worked hard to understand industry trend and change in order to provide specially customized machine. While continuing to invest in R&D, we also constantly emphasize on upgrading our product quality. In light of the fierce competition in this industry, Turan, empowered with skillful employees with professional knowledge, is fully prepared to provide our clients automatic equipment with a satisfactory service.

FUTURE VISION

There is no end to a corporation's growth. Chuliing has had more than twenty years of experience in this industry. With support coming from all corners, we are going to continue to grow steadily. Our future vision is to constantly upgrade our product function and quality, in the meantime, to insist the principle of client-is-first. We will continue to move forward with confidence and professional skills. We are going to actively develop new products in the future, in pursuing our objective of providing better high-precision and automatic equipment, with a view to strengthen our brand.Agents play an integral part in the communication between us and our clients. Our company works hard on providing our agents with product that always meets the qualification. We look forward to collaborating with agents who are interested in exploring the market by representing our company.